The Apologies
Timed artwork (1h15)
Writing, chalk, four photographs, photocopied.
Dimensions vary.
Detailing failure, writing "wrongs". in a single cathartic performance, taking over a cleansed space. The writing is left in an exploration of permanence/impermanence and expected to be walked on, so by healing as it fades
Kuba KulturBahnhof, artist residency, Klein Warnow, Germany
May 2019
PRICE AVAILABLE ON REQUEST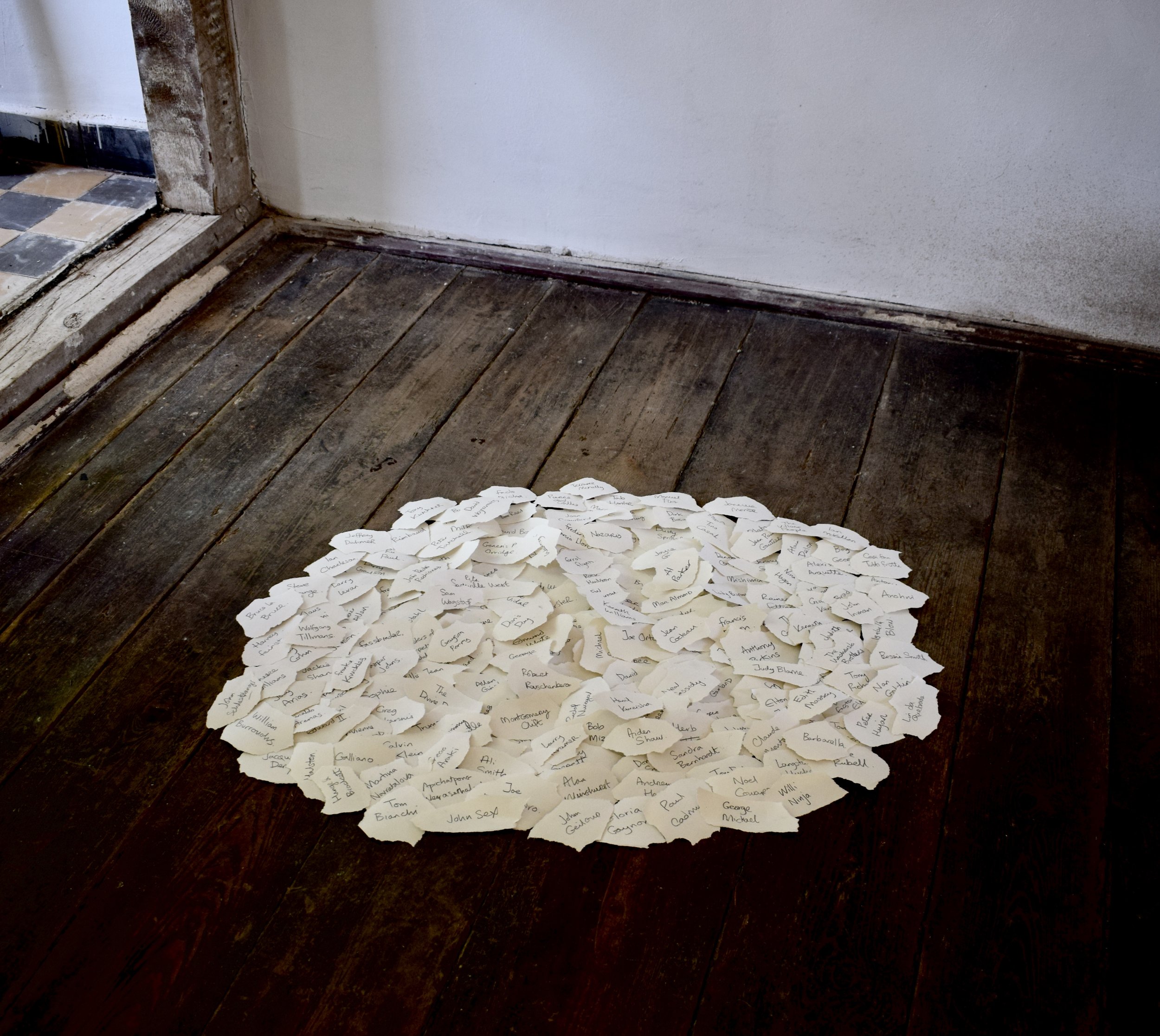 Knowledge Burial
Timed artwork (2h20)
Torn paper, graphite pencil, recitation.
Dimensions vary.
Naming of queer protagonists in history and culture, till memory fails you.
Kuba KulturBahnhof, artist residency, Klein Warnow, Germany
May 2019
PRICE AVAILABLE ON REQUEST
Oh Fuck Yeah
Partial view of site-specific installation at gallery A Montanha (10/10 to 4/11/18), Lisbon.
Earth (dug from the grounds of the National Stadium, Lisbon, and at night a popular cruising spot), applied in an inch-thick layer around the circumference of the space.
Chopped cardamom seeds (purchased from Guatemala City Central Market) added to the earth, sprayed with water.
Sound piece - gay porn, slowed to 1/10 of original speed - (recording: 7 min., silence 24 min. 8 sec.) in loop
Original artwork for installation 16-page publication "I Want to Be There To Your Last Breath", xeroxed, copies sold for 10 euros.
Original copy of Joe Orton's Diaries, first UK paperback edition 1987.
For further information on this piece please contact the artist.
A Minha Europa/My Europe
Theatre work written and performed by Colin Ginks and Isabel Mões.
Previews at Teatro-Estúdio António Assunção, Almada Portugal, December 2017
Premiered at Teatro da Comuna, Lisbon Portugal, May 2018
Touring
Mother stands for comfort but who will comfort her?
4 page handwritten letter on vellum, original vintage family photo, framed.
When I was a kid, I used to sit at your feet watching telly. If I was lucky I got to stay up and watch BBC2 after 9 o'clock, and sometimes I saw queers. They were mostly desperate or decadent, and they often got murdered, or committed suicide. Dad would head off to bed, since he had to get up at four to do his milk round. You and I had time to ourselves, and would talk. I looked forward to it.
One day, maybe after another queer got his comeuppance on the screen, you said you wouldn't want a gay child. My heart beat faster, without me knowing why. I asked what you meant. I wouldn't want to see my child suffer too, like they seem to always do, you said.
PRICE AVAILABLE ON REQUEST
Write
Coat rail, crepe paper, sand, tin bucket, paint, pen.
"Visitors to the self-curated queer art group show were invited to write down memories of people they had lost."
PRICE AVAILABLE ON REQUEST
Ballad of the Sexually Active Queer
An excerpt from a film of a 17 minute visual, spoken performance piece. 2013. A collaboration with Joana Mendes (film and editing). Extra footage by Sabrina Marques